Recommendations
Throughout this case study, I have seen a recurring pattern; the success of the Neflix brand depends on the brand equity and the user experience / customer journey. In order to succeed, Netflix will need to strengthen and maintain that equity, while improving the user experience. I have distilled these ideas into three recommendations.
Target New Market Segments
In order for Netflix to grow, they need a sustainable model of gaining users. Depending on original programming to drive subscriptions works well, but not in new markets. If Netflix wants to become a global brand by 2017, they need new ways to build brand equity in new regions. So far, there has been little marketing differentiation by geography, and I think that's a problem. They need new shows and messaging that cater to those markets.
Developing a native ad for "Narcos" in Spanish was clever, but still does not orient the brand around the Spanish-speaking audience, which itself is incredibly diverse. Let's take into consideration two large markets that would be incredulous to building global brand equity: China and India.
China is an interesting case beacause of the content filtering, but other US companies have gotten around this by building seperate but parallel products behind "The Great Firewall of China." Just one example is that of Evernote, a note-taking and productivity tool. In order to cater to the booming and increasingly online Chinese market, they created a seperate product developed, produced, and operated in Chinese. Similarly, Netflix can do the same by developing an entirely seperate library of content for China. If Netflix is serious about it's current brand positioning, then this is actually a very low-risk strategy. It's all still content-first. If the original programming is driving the brand equity, then this strategy is one to consider for the multi-billion-dollar Chinese market.
India is also interesting, but not because of regulation; rather, India is interesting because it has maintained the largest film and television industry in the world. Bollywood and cable television in India see thousands of new productions every year, most of them failing. Netflix was successful in the US in a microcosm of this environment; where talented writers wanted to produce something outside of the rote pilot-test-renew model. Similarly, in India, the indie film business has driven new creatives to desire more from the industry. An Indian — or otherwise South Asian — Netflix would meet this need perfectly. Thus, brand equity can be built overseas in other ways.
Improve Discovery to Build Trust
In a subtle way, Netflix actually has suffered from a trust issue as a result of its user experience. The problem lies in content discovery, namely, search. There are documented cases of users being uneasy with the Netflix search and selection process, often turning to alternative services first:
I don't trust Netflix. It's not that I think they're up to anything nefarious. … It's that I don't trust their interface to really show me what's available.
This section of the customer journey has notably gotten better after Netflix has tested a number of futile alternatives, like Max, a failed and discarded recommendation service. Today, the Netflix search process still lacks in one key way: it searches but doesn't refine.
Search isn't good enough because search is open ended. Often, users settle for not being able to fine-tune their selection, leading to a distrust of the service. From a user experience perspective, Netflix can employ two lessons:
Don't just rely on having a search box as an excuse not to organize and display your content in an easy-to-browse way.
Give meaningful feedback when a search fails. Don't just tell the user "no results." That's obvious. Help them out. Give suggestions for alternate searches. And if there's anything relevant in your database about the user's search terms, even if it's not directly available to them in their current context, at least let them know as much.
Create a New Social Streaming Experience
Finally, Netflix has created a new television experience, but has not yet fully capitalised on the opportunity that creates. Next, they should seek to increase social activity and sharing between members on their site. Other competitors, like Netflix, rely on the user's willingness to link their viewing accounts with their Facebook profiles to connect socially. This creates dependency on another network, but also creates cohesiveness. However, streaming sites are stagnated when it comes to creative ways to catalyse social engagement.
One study by Time Warner revealed a particularly valuable insight: a viewer's emotional engagement with television content is 1.3 times higher when watching with others than when watching alone. Here's the fascinating part: the same increase in engagement is found when a viewer is physically alone but interacting on social media while watching.
An existing UX case study proposes "The Netflix Screening Room," a space for watching, sparking conversation, and creating connection between members: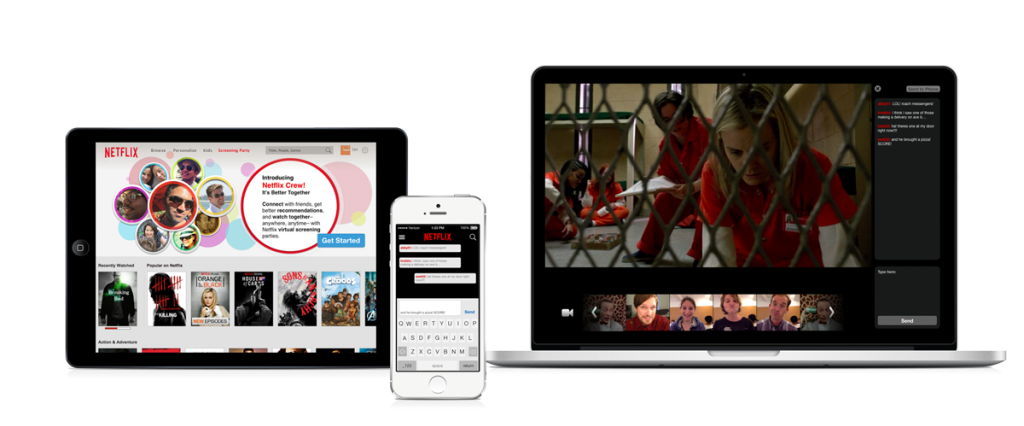 Streaming is the new norm, but just because users are increasingly watching online doesn't mean they don't want to watch with others. Netflix can take advantage of the nuances of their service by offering deeper social integration, boosting the experience, and building brand equity.